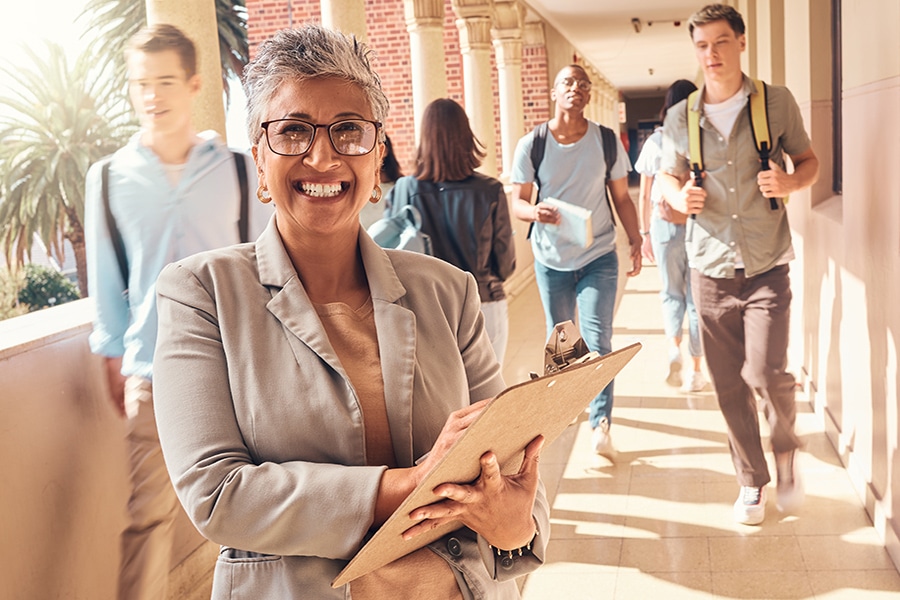 In the education sector, there is a continual drive to find new and innovative ways to improve the learning experience for students. This has led to a rise in the use of software solutions in schools. 
Between 2021 and 2022, EduTrak conducted a survey of nearly 600 respondents who all held decision-making positions in U.S. school business offices, athletic departments, cafeteria management, extended childcare, and in leadership roles (principal, superintendent, etc.). The following is a summary of the report findings.  
Cafeteria Management Trends 
Cafeteria managers were asked a series of questions about subjects as wide-ranging as autonomous self-service check-out for students, the use of facial recognition, pre-meal selection, and more.  
The majority of Cafeteria Managers are satisfied or very satisfied with the use of a software application in their jobs citing the functionality, features, and support as key factors in the decision to implement the tools.  
A major factor in the decision to utilize educational software solutions in food management will come down to whether the USDA free lunch program is extended into 2022-2023. Decision makers are examining how best to manage their cashier systems to offset lost revenues. Nearly 30 percent of respondents stated they would be willing to, or probably would be willing to pay more for food service cashier management software.  
There is much debate over offering pre-meal selection options and implementing autonomous self-service checkouts. More than one-third of respondents see the benefit of offering a pre-meal selection offer but an equal number did not. The largest deterrent to offering self-service checkout is the potential for student dishonesty and theft.  
Respondents remain undecided about the use of facial recognition technology. The majority had a negative reaction to implementing this capability in their schools. Ultimately, more education is required about the benefits and possible consequences of facial recognition ID for students before a decision can be made. 
Childcare Trends 
Two-thirds of survey respondents whose current role is in Childcare reported that their school uses related management software. The majority (50 percent) have been using a software solution for 2-5 years. An additional 25 percent have been using their primary software application for 5-10 years.  
Most charge parents a flat rate for day/week/month rather than billing by actual attendance. Additionally, many commented that attendance is provided free of charge to the parents, either through donations or grant funding. 
The leading motivation to switch vendors was pricing and cost. This is followed by desired features that would benefit both them and the parents.  
In terms of overall satisfaction with their Primary software application, over 50 percent were either satisfied or very satisfied when considering its functions, features, services/support, etc. 
Administration and Leadership Trends 
Regarding educational software solutions for administration and leadership, two-thirds of survey respondents reported that their school currently utilizes a related management system. Ease of use is considered the most important feature of a software solution followed by accounting and payment management. Interestingly, only one-third of those using a software solution pass the cost associated with the tool through to the parents.  
When asked if they would consider changing vendors, the primary motivation to do so was cost, user-friendliness, and integration with other programs. 
Survey respondents in the Business Office/Other Administration reported that their Primary software application is satisfactory when considering its features, functionality, services/support, etc. Over 30 percent of respondents have used this software for 2-5 years. Nearly 40 percent claimed to have used it for 5-10 years. 
Conclusion
It's clear from the survey results that software solutions are becoming increasingly important in the education sector. School districts need to ensure their chosen software solutions have a user-friendly interface, strong integration capabilities with other programs, and cost-effectiveness for parents and administrations. Additionally, easy-to-reach and knowledgeable customer support are key for schools that cannot afford downtime or long waits for a response to fix an issue. 
The future of software for education is exciting, with many new and innovative options being introduced each year. With this ever-changing landscape, it will be interesting to see how software solutions continue to evolve in the years ahead.  
If you're interested in reading more data and insights, please download the complete whitepaper from our site.  
Let EduTrak Help You  
EduTrak offers a full suite of best-in-class solutions including fee management, food service, tuition, activity registrations, insurance, childcare, and more. EduTrak is more than software for your school—we are your business partner in education. We are here to deliver unique personalized solutions tailored to your school's specific needs.  
Our tagline, "Simple. Smart. Affordable." sums up how flexible, fast, and easy our software solution is for schools of all sizes.  
Let's discuss your needs to ensure a smooth EduTrak transition. Contact us today.