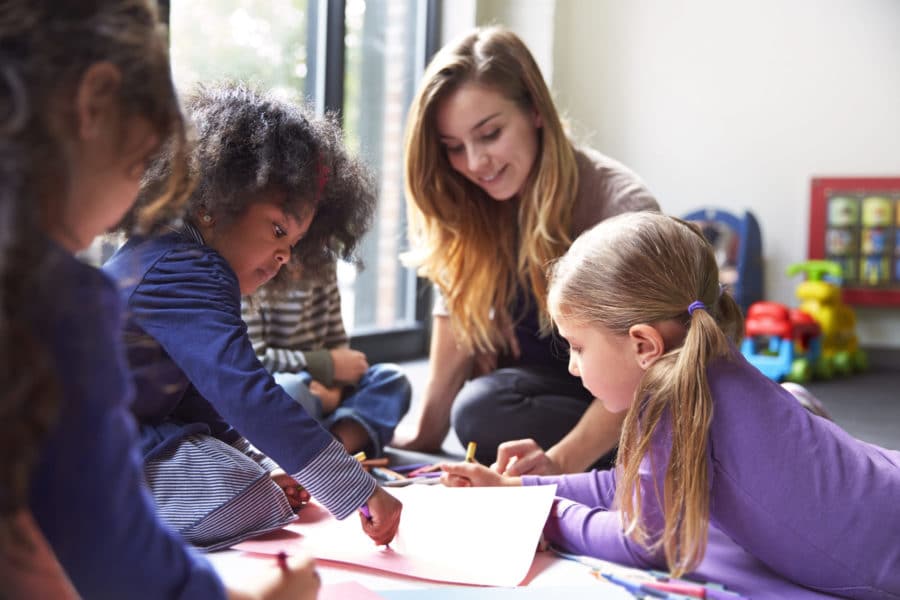 Managing multiple payment vendors can be incredibly taxing for any organization, and K-12 schools are no exception. One area of school administration where this is most obvious is with after-school childcare billing.  
As school administrators, you're responsible for keeping track of all participating family members, any medical or food allergies, emergency contacts, attendance billing, and so much more. If only there was a single source that could handle all of these items in one software solution. 
EduTrak offers a robust and effective unified software solution that can dramatically reduce the stress and complexity involved with child care. 
Child Care Programs 
Many K-12 schools offer childcare programs for school-aged children. When a school offers this service, it simplifies the parent's life and provides a new financial resource for school administrations. In turn, EduTrak offers a solution that simplifies school administrator's lives. 
Additionally, childcare programs for infants, toddlers, and pre-schoolers benefit from having a single-source payment solution. And lest we forget, there are many other programs including private music lessons, tutoring, after-school activities, etc. that charge fees based on students' attendance. These programs will also find the EduTrak billing and attendance software easy to use and beneficial. 
Starting with the Parents 
Parents with school-aged children have more than enough to contend with on any given day. If their child's school offers even the slightest amount of help to ease their stress, the parents are grateful.  
For those schools that do offer child care, using EduTrak's solution, offers real-time enrollment, confirmation, and payment. Parents can maintain emergency card data, they can access browsable activity catalogs that are tailored for students by location, grade, and gender, and much more.  
The best feature of the EduTrak solution is that it offers the fewest clicks from login to checkout and provides an easy-to-navigate registration process with a step-by-step progress status bar, as well as the ability to save the registration progress and return later. The latter is a feature anyone with young children will understand is essential to getting anything accomplished. 
The Benefits of Implementing the EduTrak Solution for School-Age Childcare Billing 
Implementing a single-source payment solution for school-age childcare billing can provide numerous benefits to parents, providers, and administrators. Some of these include: 
Easy electronic payments. 

 

For parents, this makes the payment process easier.

 

For providers and administrators, it saves time and money by automating the billing process.

 

Helps streamline the process of collecting and disbursing payments. 

 

This will reduce time spent on manual processes and help to ensure that all payments are made accurately and securely. 

 

Avoid unnecessary fees associated with multiple payment methods. 

 

Eases the financial burden on schools. 

 

Helps maintain accurate records of all payments made within the district. 

 

Batch payments and batch attendance instead of only one payment at a time.

 

The ability to charge for childcare on an hourly, sessional, or drop-in basis.

 

Other benefits include invoice generation, flex account statements, custom generation forms, participant family members, medical/allergies for each child, and more.

 
With a single-source payment solution, everyone involved in the school-age childcare billing process will benefit from more efficient and secure transactions. 
Choose EduTrak and Transition to a Single-Source Payment Solution
If you're looking for an efficient and secure way to process payments online, EduTrak is the perfect choice. EduTrak's advanced billing and attendance features are designed to simplify the challenging task of managing a childcare program.  
We make it easy to calculate fees based on student attendance, making it more efficient and cost-effective for your organization, and less demanding on your staff and budget. The software also helps automate administrative tasks such as scheduling, communication with parents/students, invoicing, and more. 
Overall, implementing a single-source payment process in your school district is an effective way to improve efficiency, reduce the stress on parents and school resources, decrease costs, and ensure the accuracy of all financial transactions. 
Schedule Your Discover Meeting Today
EduTrak's primary mission is to make a school administrator's life easier. We're ready to discuss how we can make it so for you.  
EduTrak is more than software for your school—we are your business partner in education. We are here to deliver unique personalized solutions tailored to your school's specific needs. Together, we will discuss your needs to ensure a smooth EduTrak transition. Contact us today.